Some shots of early fall NYC shot with Sony A7 III and street photography!
---
Recently I was having a talk with one of my colleague, Peiyuan, about photography. I always wanted to try out a full frame camera with a lens with long focal length and wide aperture, and he wanted to play with my fuji to explore the famous fuji color science. Eventually we landed on a fun camera exchange, which I got his Sony A7 III with a 85mm f1.8 lens, and he got my Fuji X-S10 with all the lens I had. I had a lot of fun playing with this camera and lens for the past three days, and got great photos as one of the results.
Obviously, great photos are nothing if nobody else ever sees it. So I will post them on my blog, and hope everyone who comes across my website have a great time with them. Enjoy!
Cozy Day
Every Friday I go to Roosevelt Island Senior Center to teach senior citizens how to use their phones and electronics. On my way there, I saw a couple newly installed public artwork, and they surely look amazing.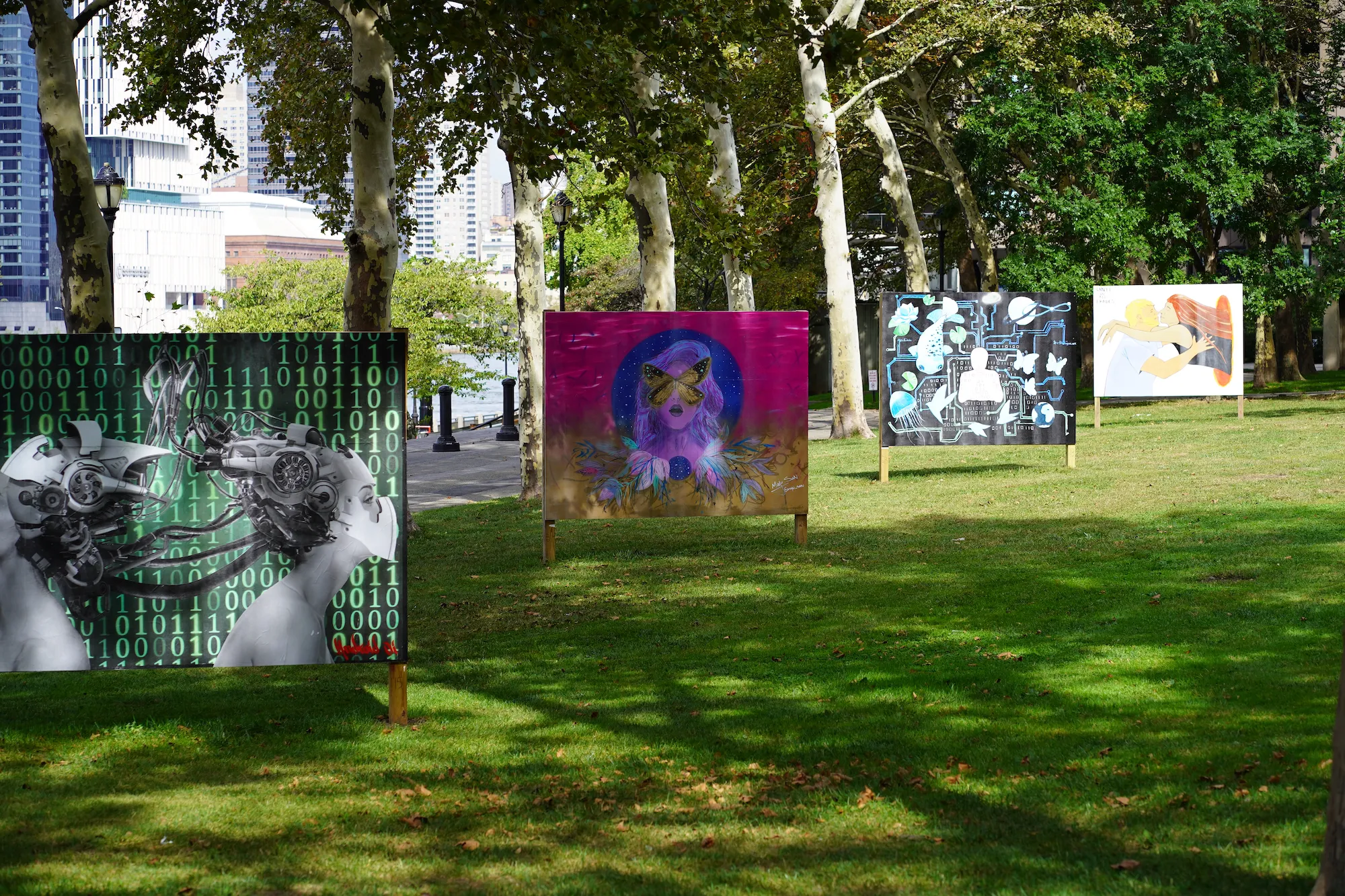 Public Art.
After I was done teaching for the day, I came out of the senior center, and right across the street was a bus stop and a super old church called the Chapel of the Good Shepherd. It was a very relaxing afternoon, despite nobody waiting at the stop, I managed to capture people in the background through the glass of the stop.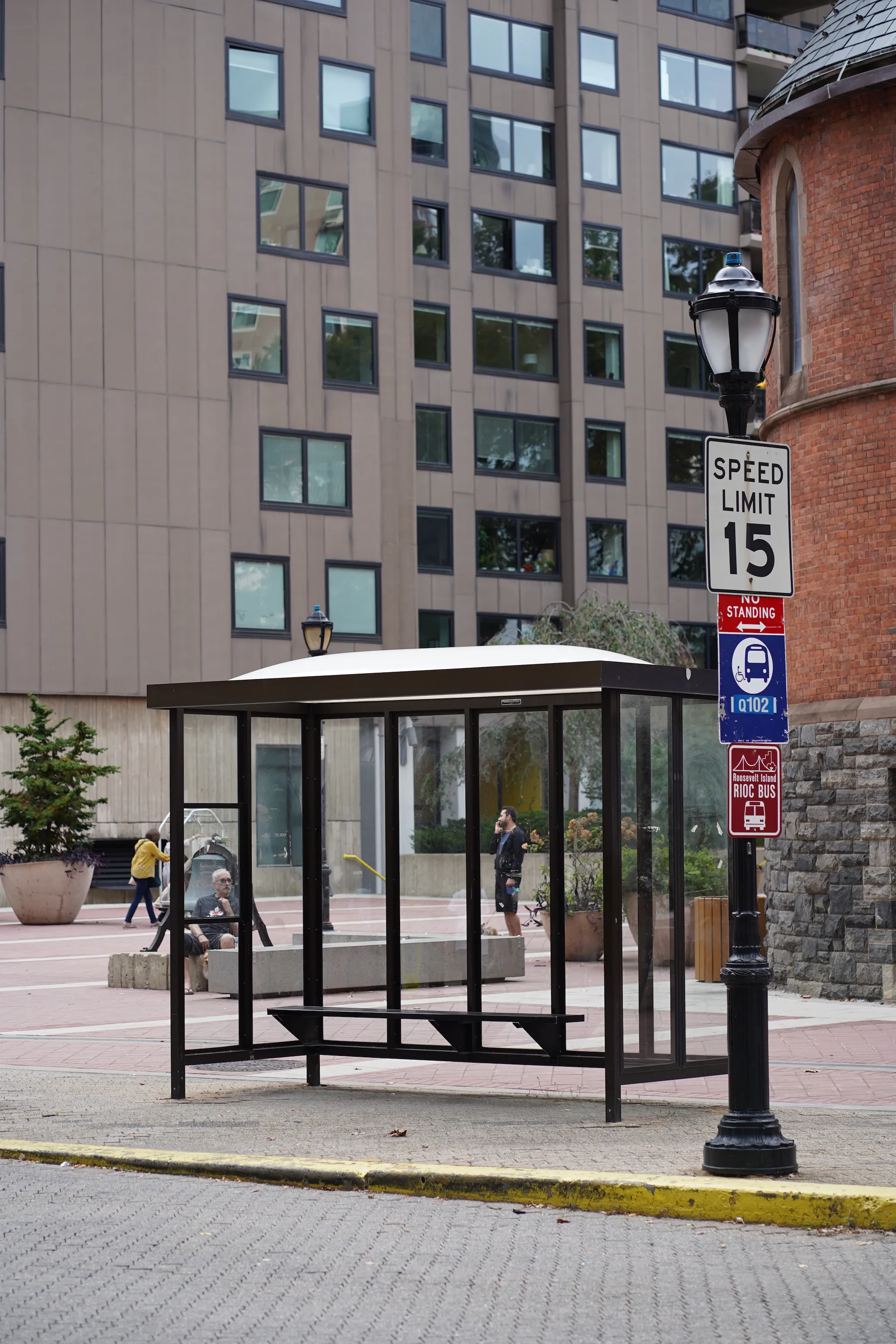 Bus Stop at the Chapel of the Good Shepherd.
And as always, as I walk back to Cornell Tech, I can see the Roosevelt Island Tram slowly moving across the Hudson river, carrying people back and fourth every day.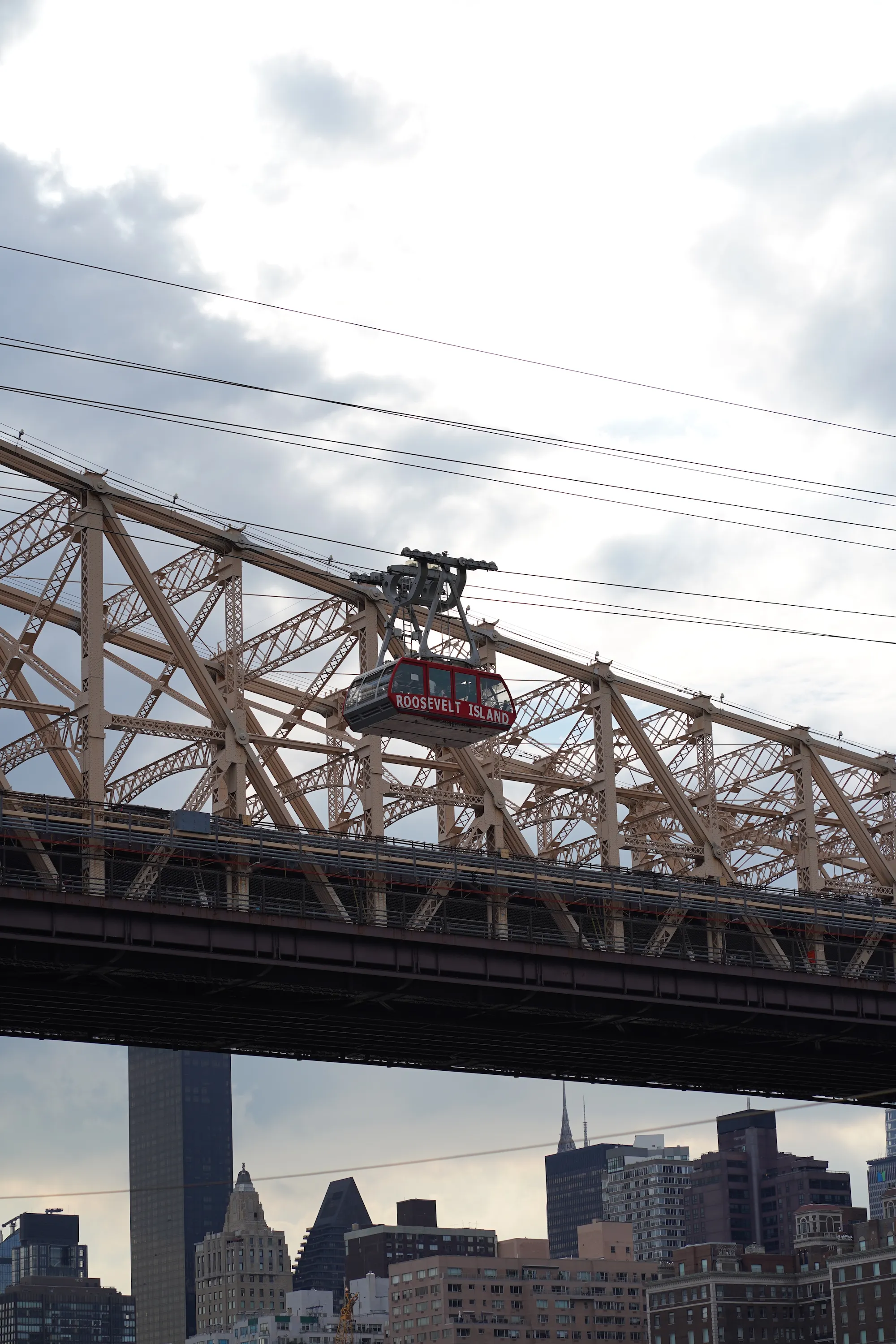 The Roosevelt Island Tram.
Buyers and Sellers
I took this picture outside of AMNH on a rainy sunday morning, and there was a farmer's market outside of AMNH. Despite the rain, the crowd was still enthusiastic about local farmers selling their freshest produces. One thing that surprised me was the amount of flowers that was on sale, seems like New Yorkers have a deep love in flowers.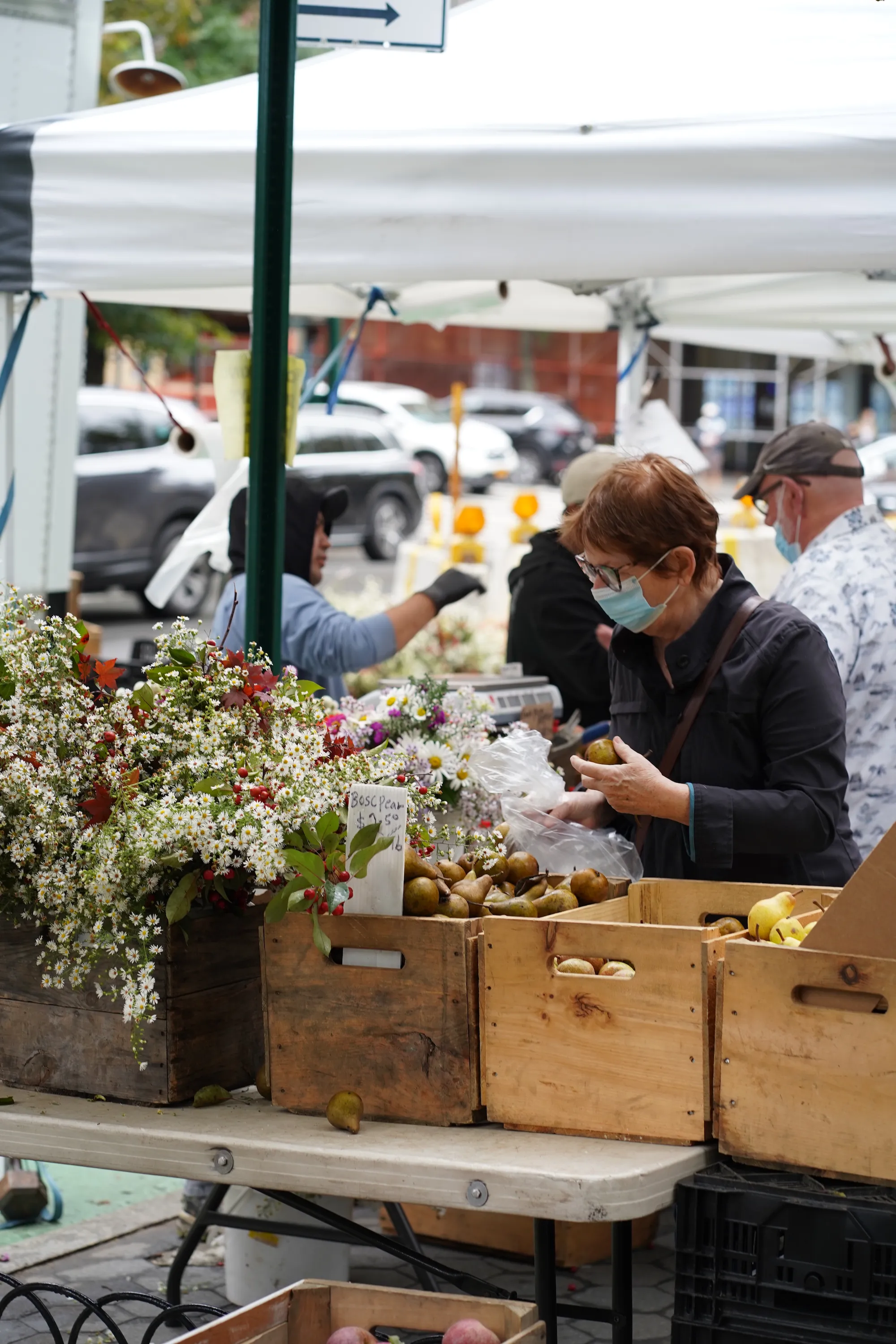 Farmer's Market.
This is a small coffee and chocolate shop on Prince St in NYC Soho. It was a late afternoon and I was on my way to dinner, then we spotted this fun little shop. It has a great smell of coffee, and their staff is certainly devoted to their job of making the best coffee to their customers.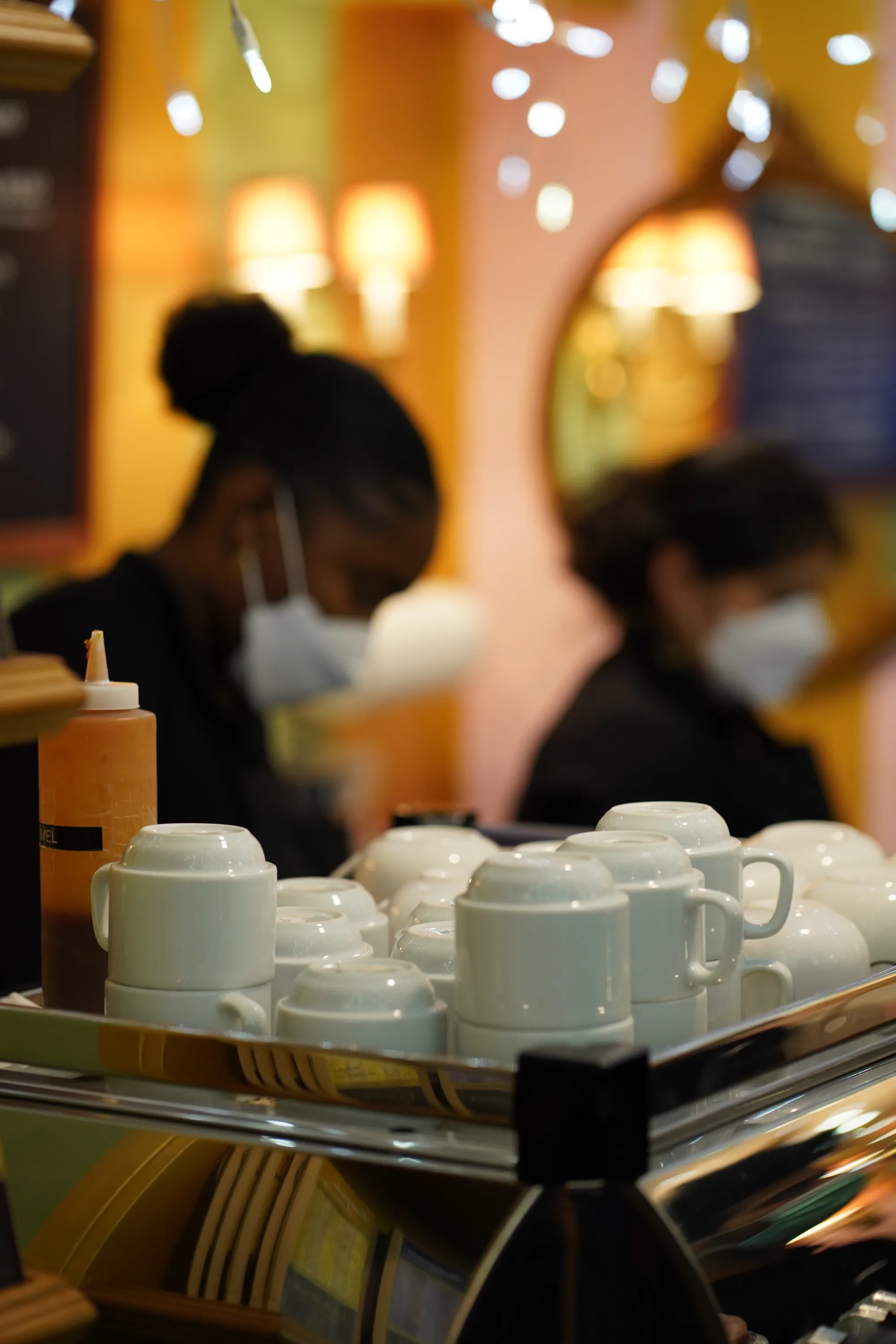 Coffee Shop.
I was waiting for my friend outside the Roosevelt Island subway station, and snapped this photo of a woman coming come late from work picking raspberry for her family. I always know there is a fruit stand outside the station, but I never bought anything from there. Might be fun to pick up a little something from there next time, since the person who was in charge of the fruit stand looks very nice to his customers.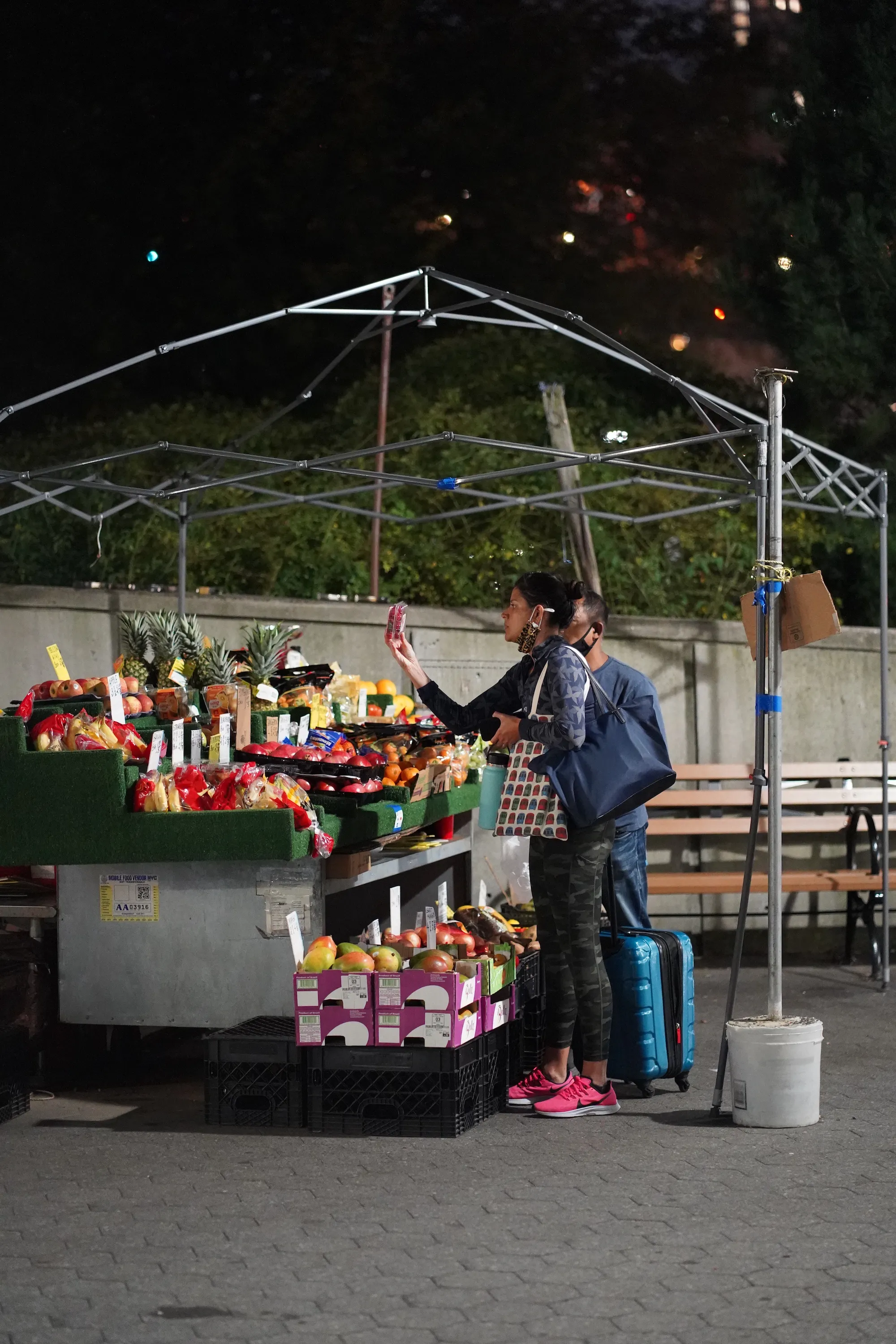 Berry Picker.
Goods for Study
There are many stores on Mulberry Street in Soho that sell little delicate stuff like books, pens, papers, etc. This store is right at the diagonal of a old church called Basilica of St. Patrick's Old Cathedral, and it is, like all book stores, full of books. I wonder how long it will take for someone to read all the books in the store at any given time.
A lifetime, maybe?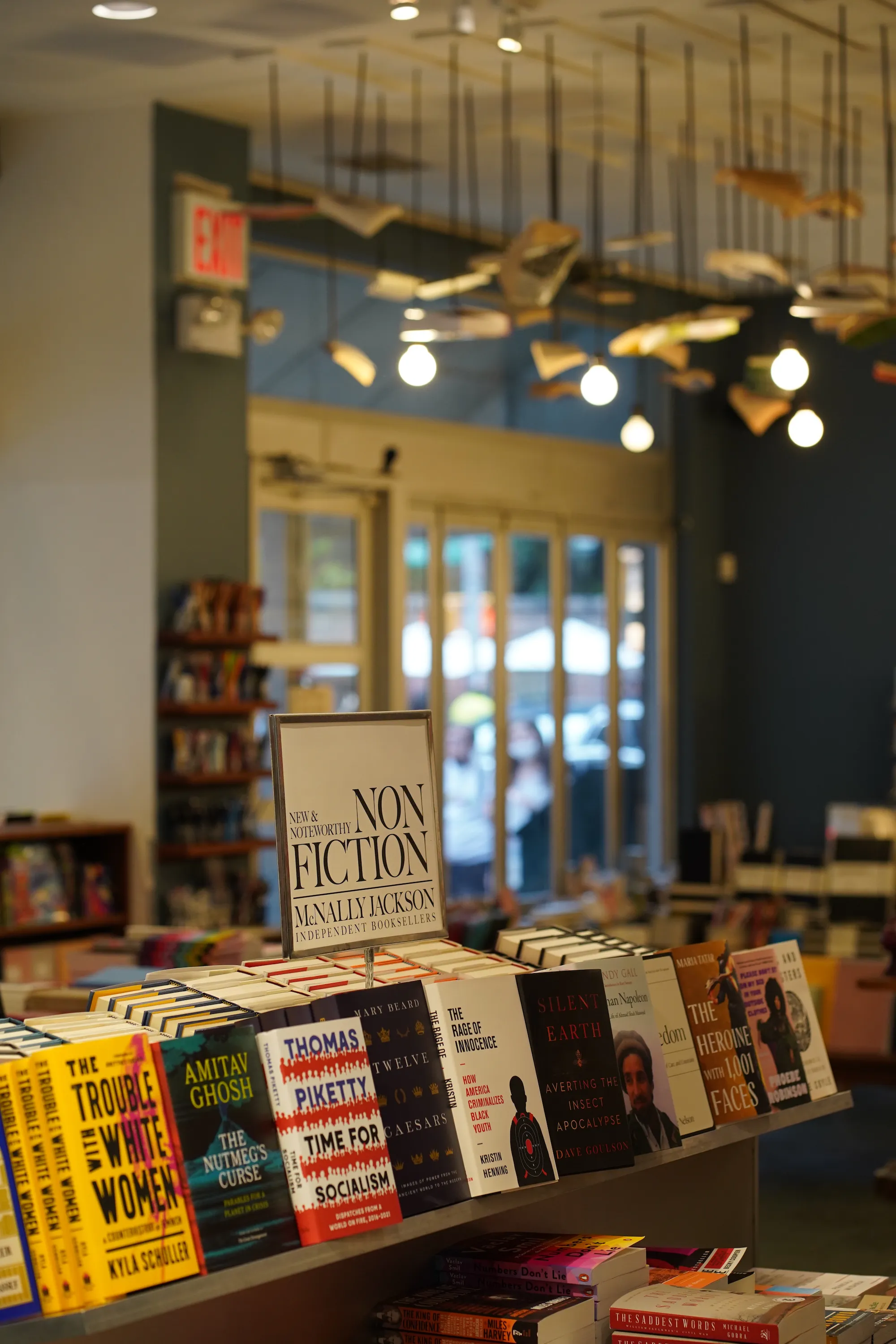 Noteworthy Non-Fiction Books.
On the same street there is this other store called "Goods for the Study" that sells writing utensils. Pens, pencils, ink, you can find any type of pen you can ever think of in this tiny store - they have them all.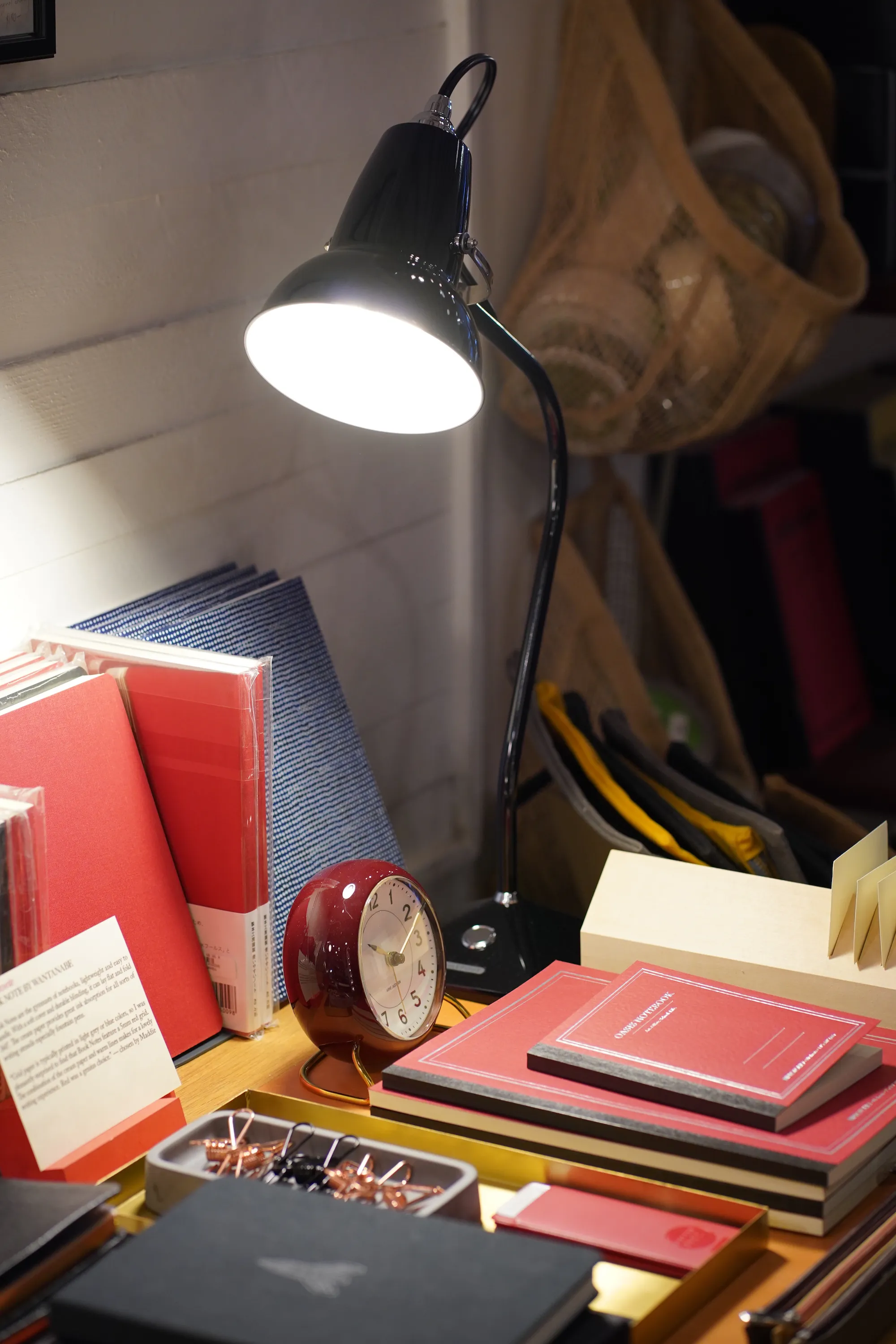 Lamp with Clock.
Next to their pen store is their paper store, and there was a great deal of notepads, papers, and other vintage things such as copper plate prints (!). Definitely a great place to check out if I want to buy a gift for one of my art loving friends.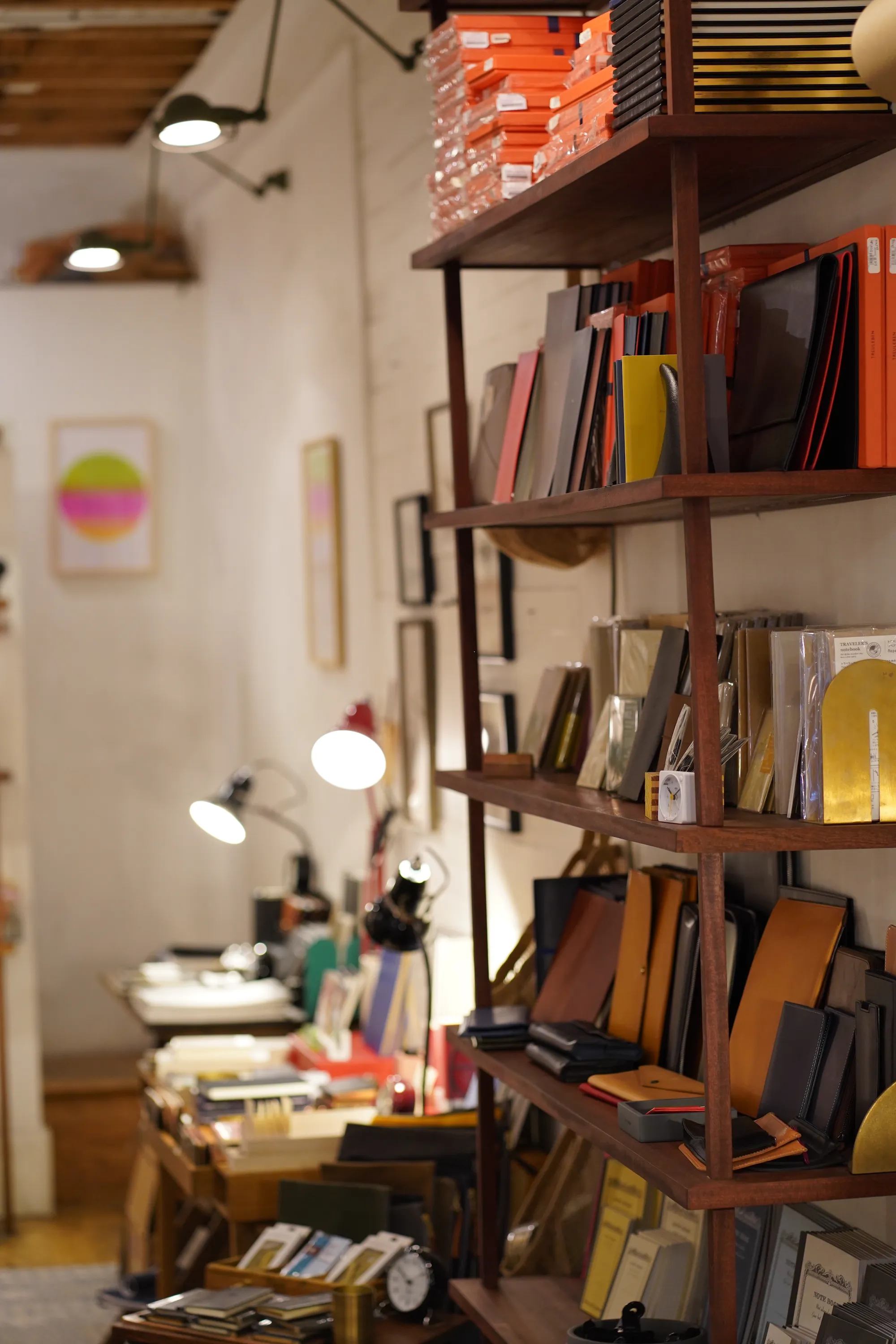 Shelf with Notepads.
People Under the Lights
Perhaps this is my favorite photo I took over the three days I had his camera, taken inside the 34th St. station. I was hurrying downstairs with my friend to get pass the crowd to the platform and I spotted this couple. The photo I snapped, in a hurry pulling out the camera from my backpack, has a sense of timelessness, despite the chaos happening around them.
Love really has its own beauty.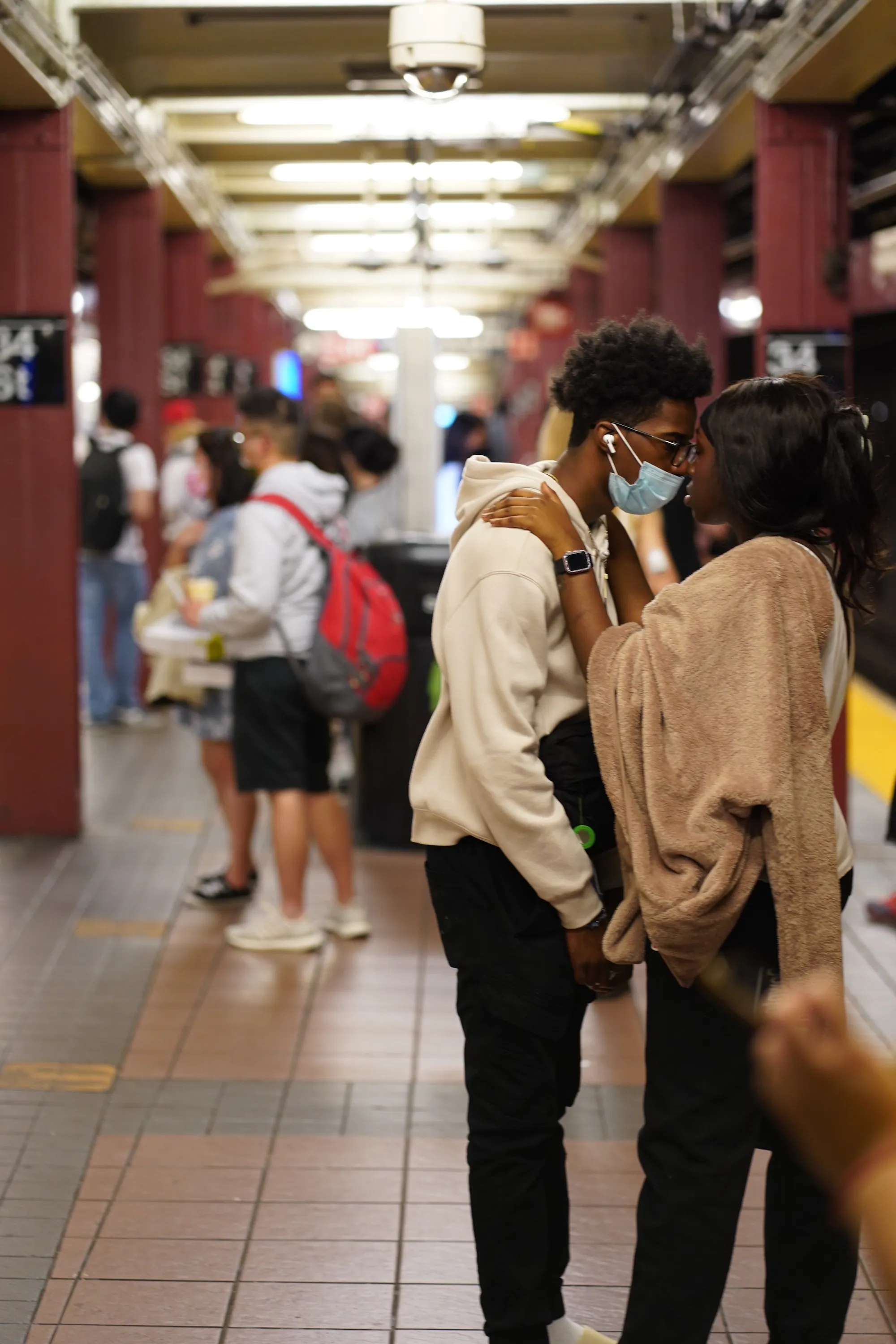 The Lovers in the Subway.
I met this man in the Times Square station, on my way back to Roosevelt Island after escorting my friend home uptown. A devoted musician, playing his favorite saxophone. I must admit, I met more musicians in the NYC subway than all of the others combines since I came to America, yet he is unique.
When I was watching Pixar's Soul, I did not get how the souls get into their "flow" when playing music. I'm starting to get it now.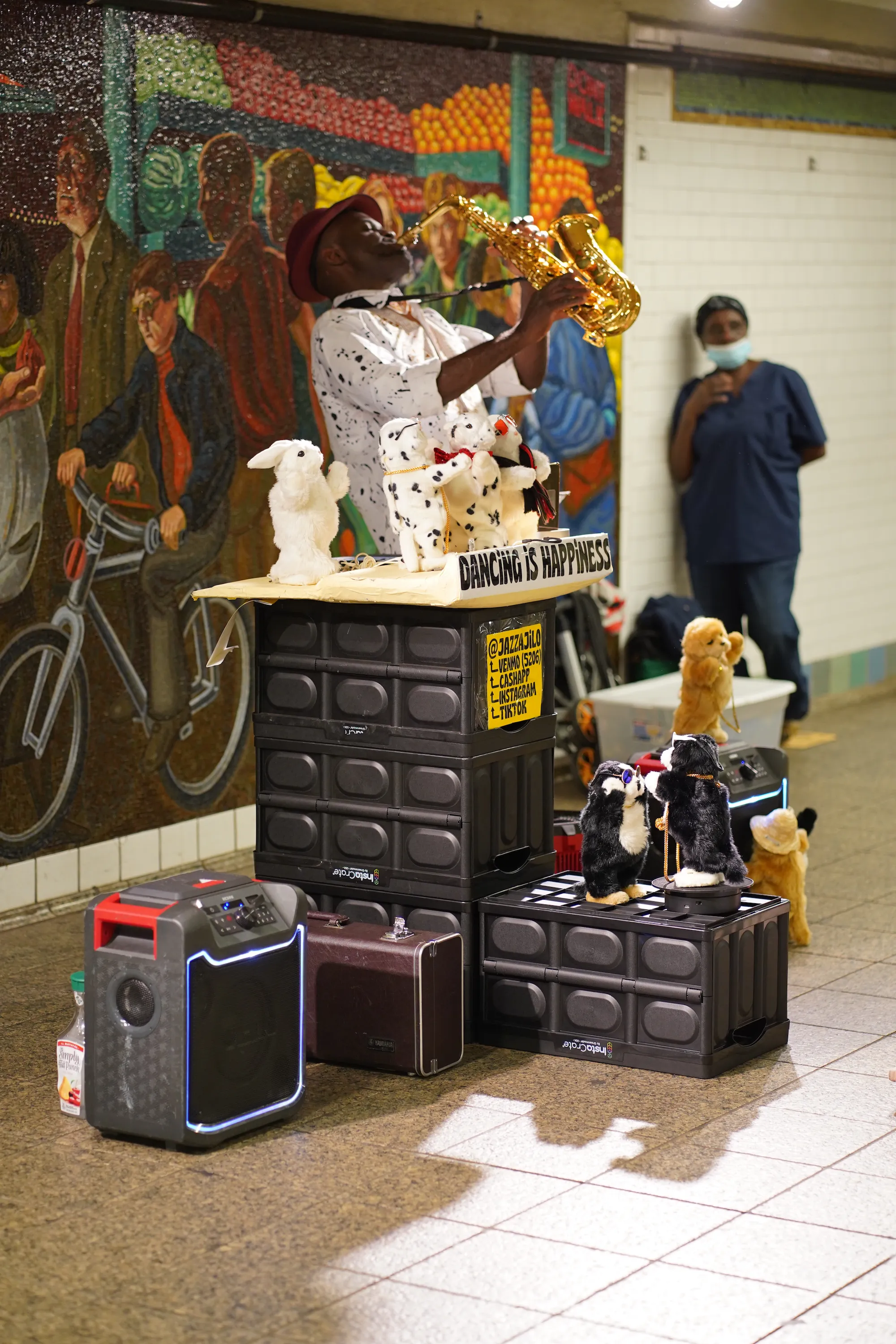 Saxophone Musician.
Outside the Roosevelt Island subway station, under the bright street lamp, a couple was chatting. I don't know what exactly they were talking about, but couples with street lamps reminded me of La La Land a little bit.
I miss California.
(Also Kudos to A7-III's fantastic dynapic range, keeping everything in perfect exposure despite the dramatic lighting environment)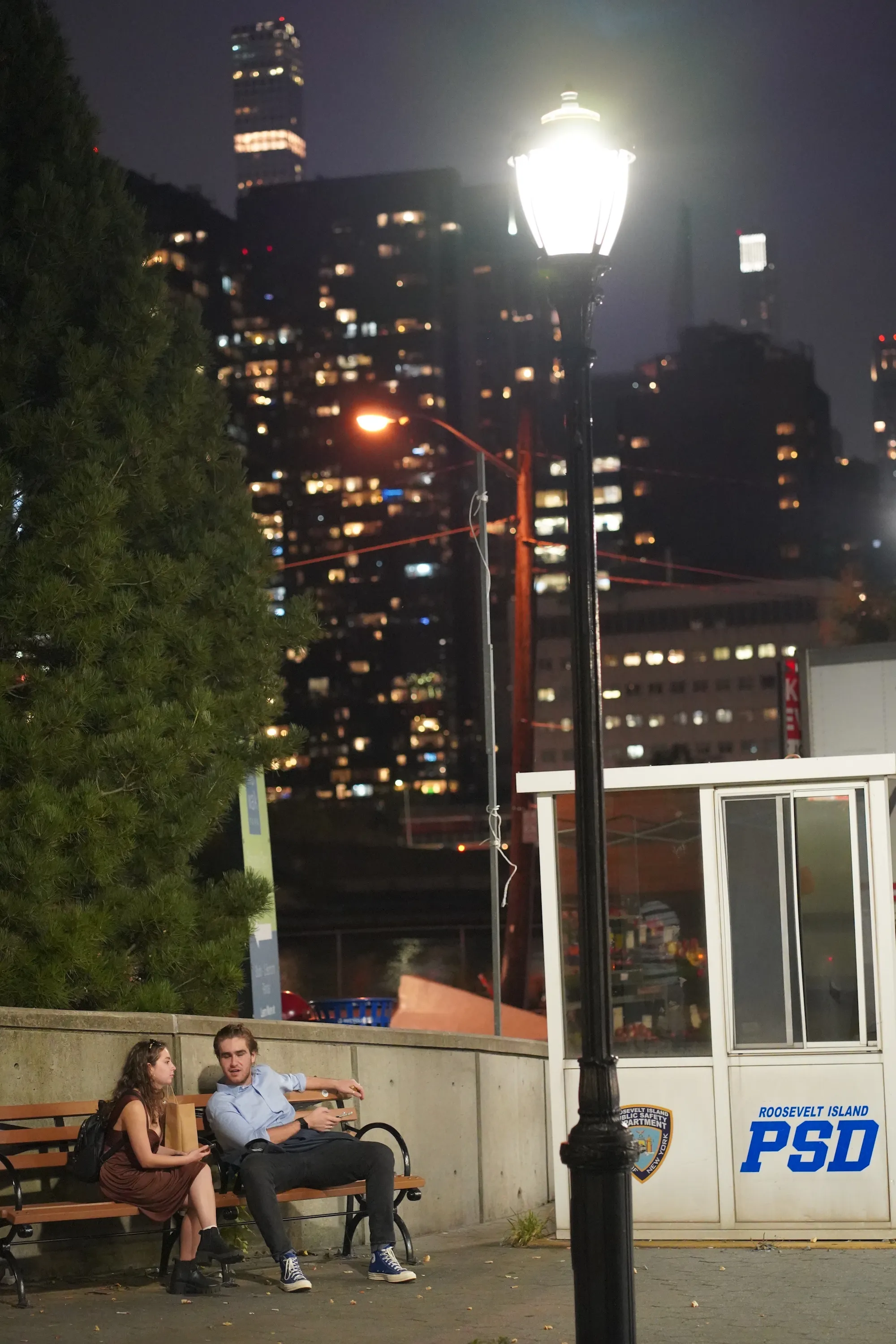 The Chatters.
Under the Universe
Cornell Tech's Bloomberg Center at night really has a techy feel (is this even a word???).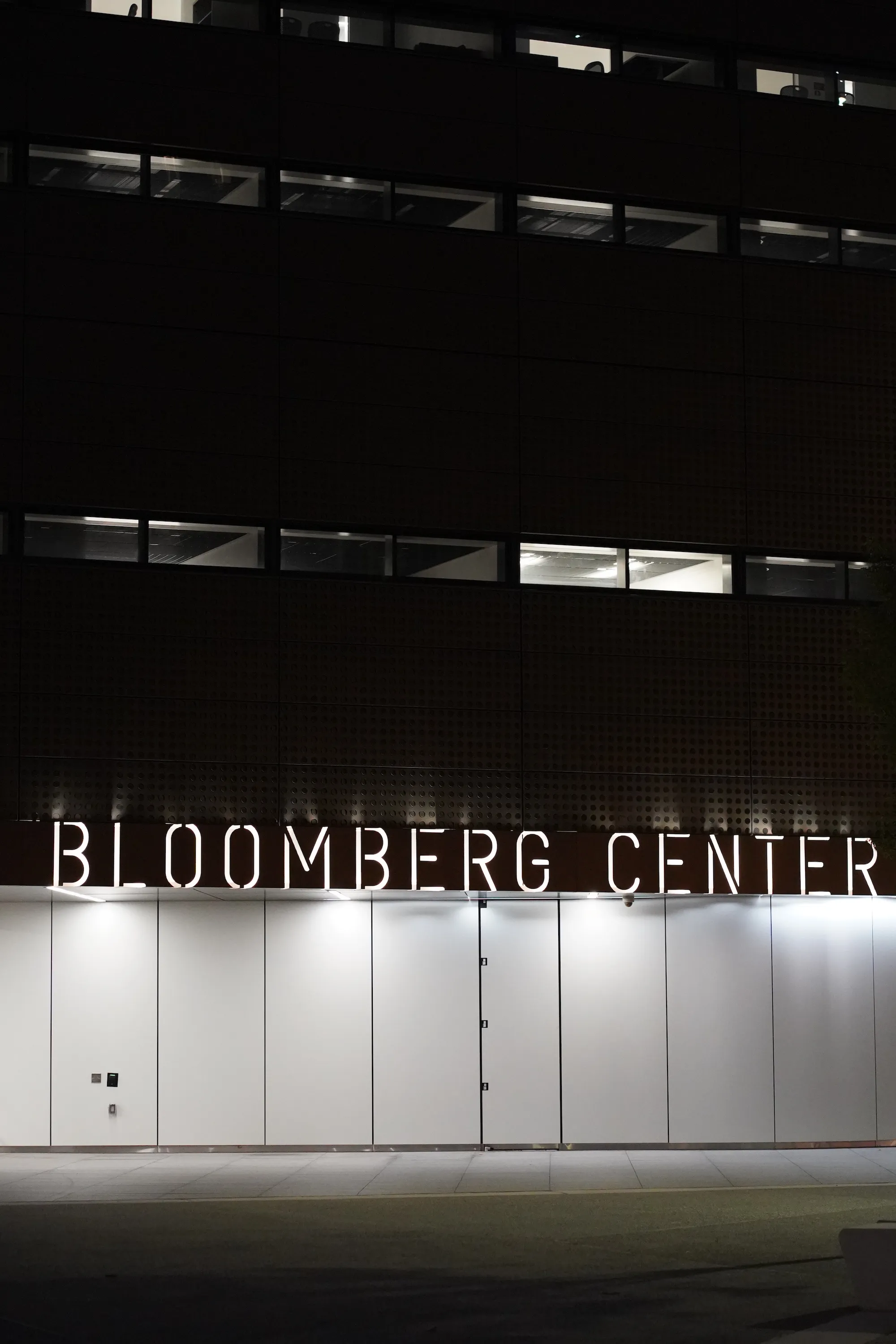 Bloomberg Center.
The Queensboro bridge always has a massive amount of cars going through it no matter if it is morning or at night. I do feel bad for people whose apartment is facing the bridge… must be super loud and bright at night…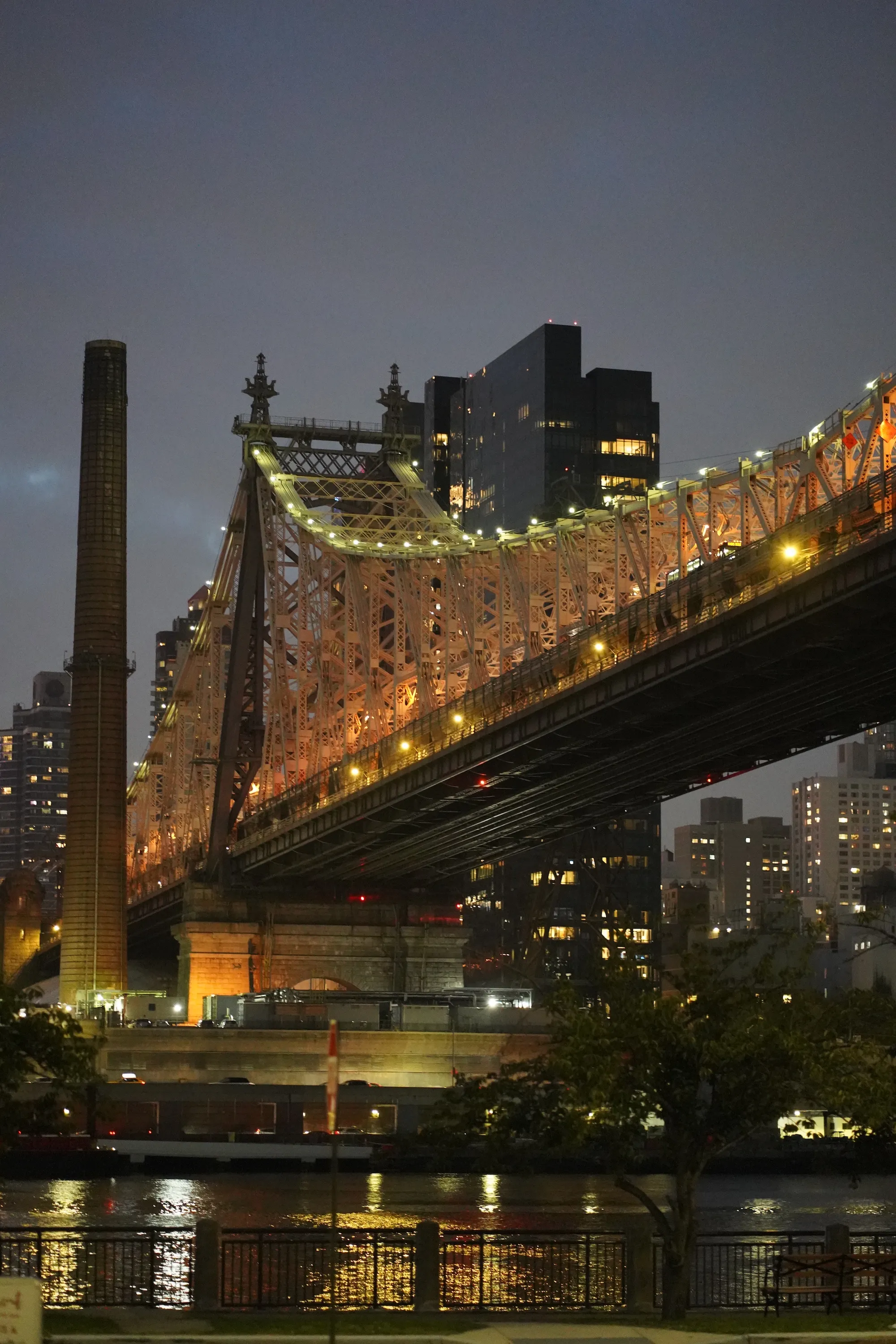 Ed Koch Queensboro Bridge.
In my opinion, this is the ultimate to test the Sony camera and lens at very dark scenario, and Sony passed for sure. It handled detail, noise, exposure, and color precisely and beautifully, resulting in a photo that has high dynamic range and great contrast.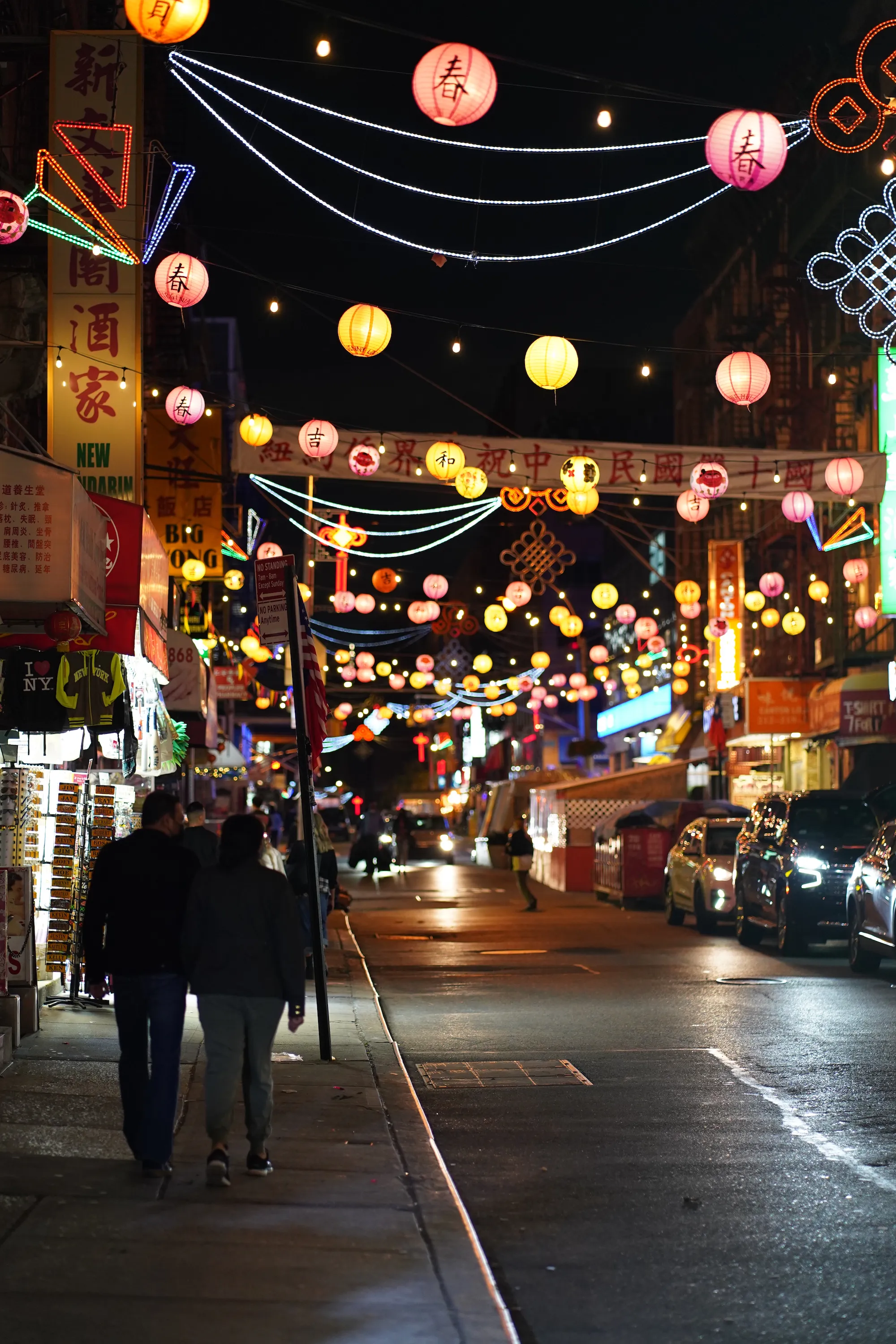 Chinatown.
Into the Night
I tested how the 85mm lens perform on neon lights in this photo, and it handled the photo perfectly. I think the main difference between a camera and iPhone with night mode is how the two systems treat light and dark.
Computational photography, albeit amazing, still does not produce photos that have darks that should be dark and lights that should be light, in my opinion.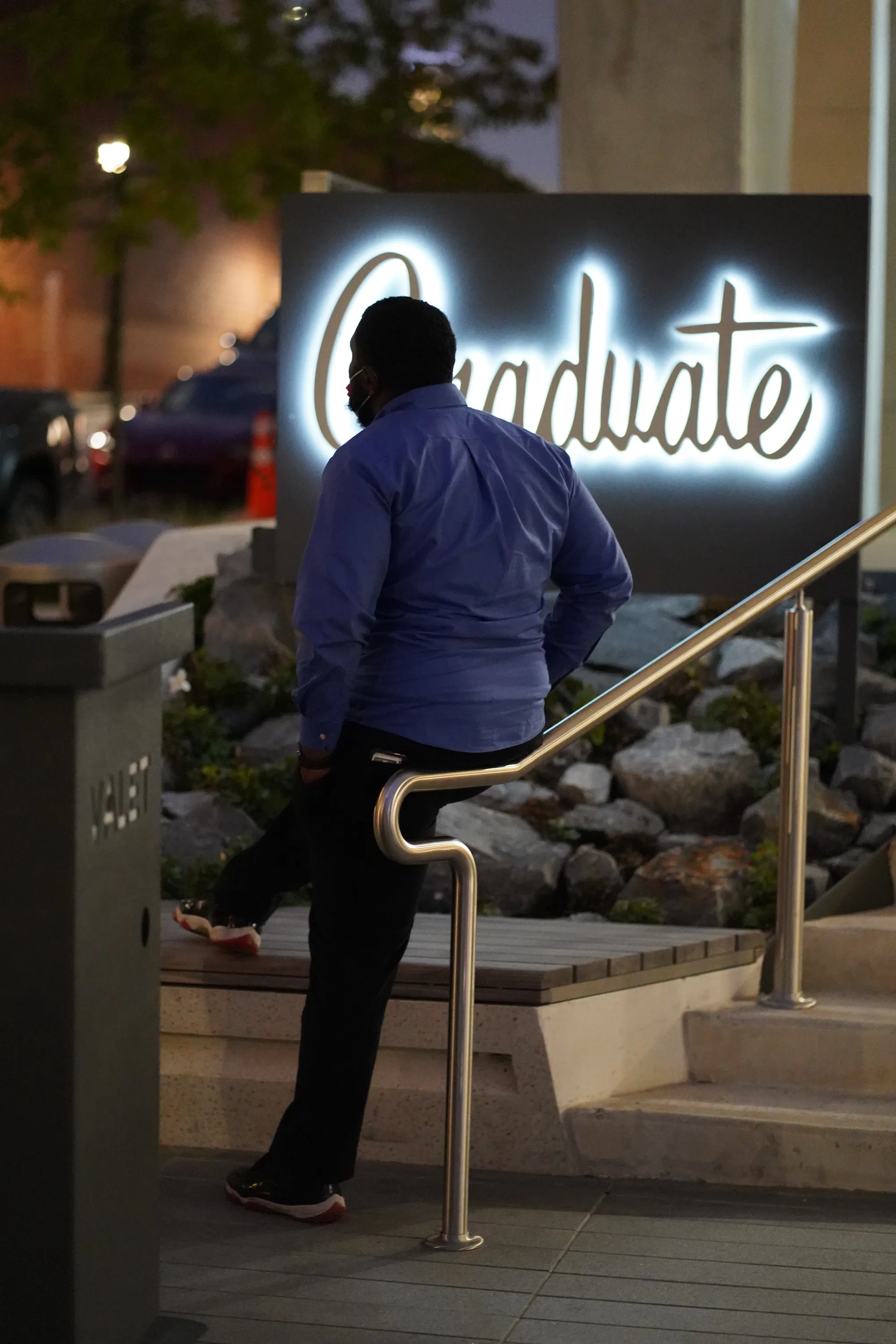 Graduate.
Few people really think about the essential workers who keep the city clean and going. And I dedicate one photo to pay my dearest respect to them.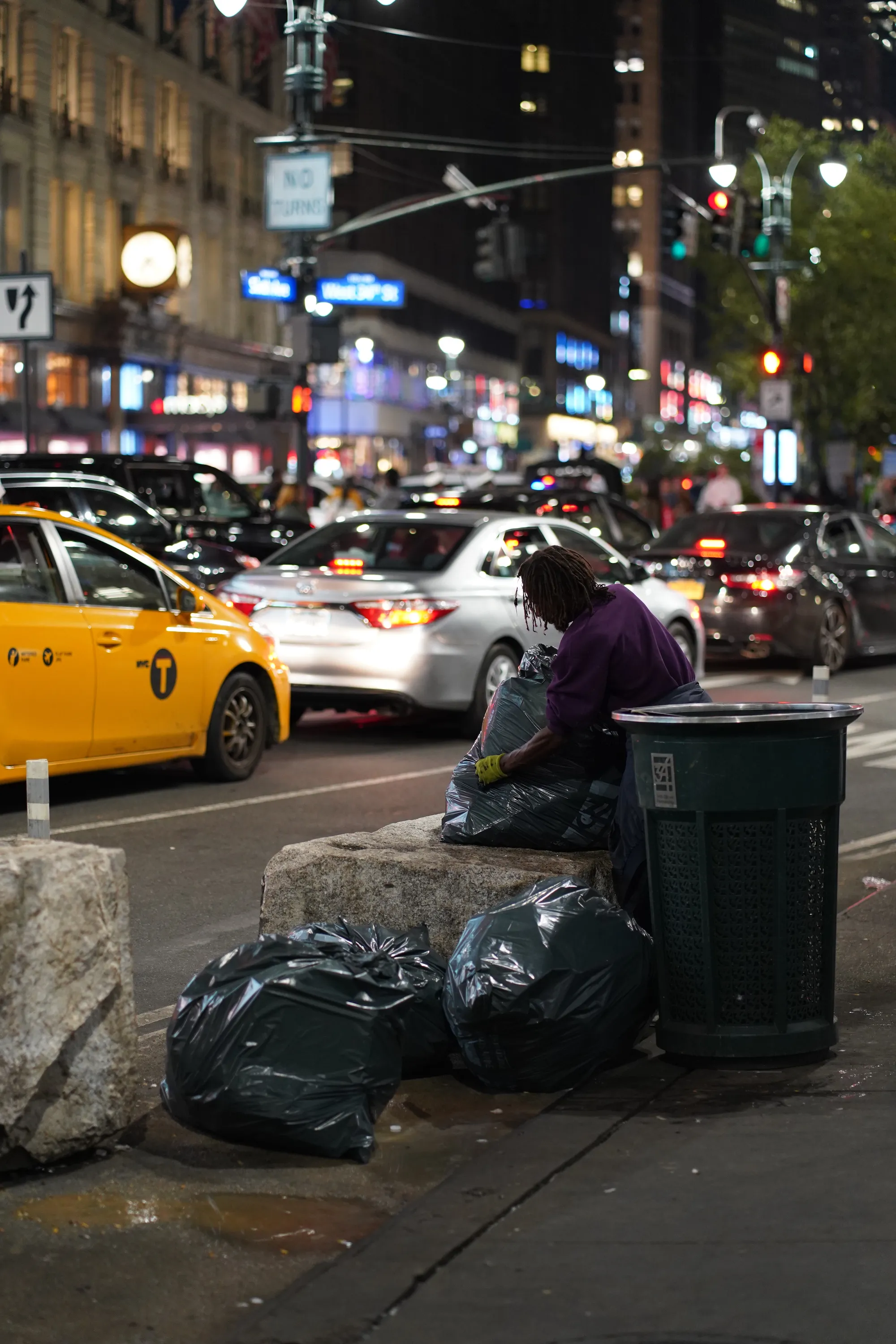 The Janitor.
This is the 85mm shooting wide open at f1.8 in its full beauty!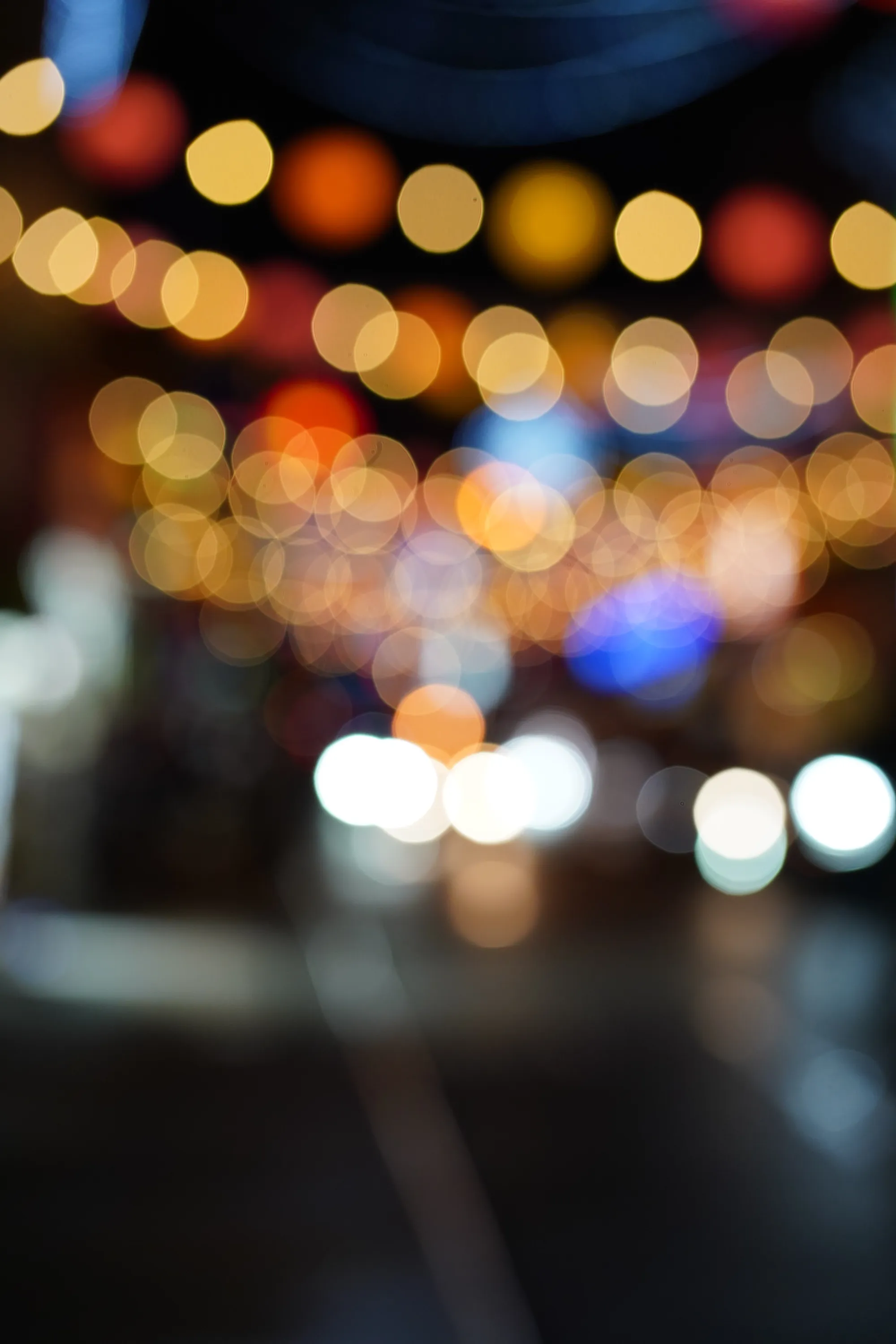 Chinatown Bokeh.
Legal
"Street Photography" usually is done in a public place such as a street, sidewalk or park involving candid images of people going about their daily lives. This type of photography is permitted in the U.S. under the legal premise established by the Supreme Court that there is no reasonable expectation of privacy in a public place. (Osterreicher)
However, if you are one of the subjects and my article makes you uncomfortable and would like me to take your picture down, please kindly let me know.
If you want to quickly say hi, just shoot me a message using the contact portal.
References
Osterreicher, Attorney Mickey H. "Street Photography and the Law: What You Need to Know." PDN Online, 27 Dec. 2018.
---
License
These pictures are distributed by Hongjun Wu under the CC BY-NC 3.0 license.
Share — You are free to copy and redistribute the material in any medium or format.
Adapt — You are free to remix, transform, and build upon the material.
Attribution — You must give appropriate credit, provide a link to the license, and indicate if changes were made. You may do so in any reasonable manner, but not in any way that suggests the licensor endorses you or your use.
Non-Commercial — You may not use the material for commercial purposes.
---